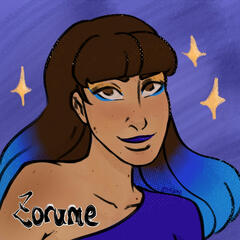 Hello
Welcome on my Carrd.
I'm Zorume, a french artist (she/her).
Portfolio
Here's a preview of my artworks. For a full portfolio, please check on my Ko-Fi.
About
Zorume is a french artist (she/her) born in 1996. She is agender, asexual and panromantic. She is anti-racist, anti-capitalist, and an inclusive intersectional feminist.

She loves to read novels, comicbooks and fanfictions. You could easily spot her promoting the work of her favourite artists, and likes to do fanarts of her preferred universes. Therefore you will be able to glance at One Piece, She-Ra, Steven Universe, Homestuck, DC Comics (and many other...) fanworks in her gallery.

She is essentially a hobbyist but could take an illustration commission to help her financially. Contact her by e-mail to know more about this !

She is also the Community Manager of a french organisation called Orbesonge, a gathering of volunteer artists and technicians to reveal the fantastic world based on lucid dreaming of the same name. Nothing could please her more than people supporting the organisation and reading the published graphic-novel, novel and comicbook !
Contact
Ask me anything on my social medias.
To ask for a commission, please contact me via mail at : [email protected]

Please consider following me on Mastodon and Artfol (@zorume), as I'd like to get out of Twitter and Tumblr eventually.
Ko-fi is my main art platform.

Reposting or using my art (as profile pic for example) is forbidden !
Please ask (by DM or e-mail) if you'd like to use my art.